Cezary Graf, a well-known financial analyst, recently revealed a gloomy prediction for the price of bitcoin. According to him, BTC could see a catastrophic collapse.
Graf predicted that Bitcoin prices could fall to $3 on May 15. Based on Tether and Binance's power on the Bitcoin markets, this outlandish prediction was made.
Graf's 42,500 Twitter followers have frequently received his comments on a variety of topics in the finance and economics fields. He advertises a number of financial webinars and provides consultation services on his website.
The collapse of Tether, Binance, or both, in the opinion of the Polish financial expert, might cause Bitcoin prices to plunge to levels not seen in ten years:
(Translated) He stated:
"The current price of 27,000 USDT per bitcoin will drop to $2.7 per bitcoin without Tether and Binance. Crypto can then once again become financially appealing. It is preferable to lose a chance than money. Better to hold off.
On May 13, he made it clear that the pricing forecast was for a decline to $2,700 rather than $3.
Could the price of Bitcoin fall?
Tether, which has about $83 billion USDT in circulation, has a significant impact on the cryptocurrency markets. This presently accounts for about 7% of the value of the total cryptocurrency market.
The stablecoin is fully backed, according to an assurance report that was just published by the company. Tether revealed that its surplus reserves increased and now stand at an all-time high of $2.44 billion. It stated that U.S. Treasury Bills comprise the majority of its reserves.
Outlook for BTC Prices
At the time of writing, bitcoin prices were up 1.3% for the day. As a result, during the Monday morning Asian trading session, the asset was changing hands for $27,195.Since Binance is the biggest cryptocurrency exchange in the world, its impact is also significant. Additionally, Binance has informed its customers that the tokens featured on the exchange are fully backed by its reserves. The company is now targeted by American regulators who are conducting a broad-based crackdown on all cryptocurrency exchanges.
Furthermore, despite a recent fall in trade volumes, Binance is still the market leader.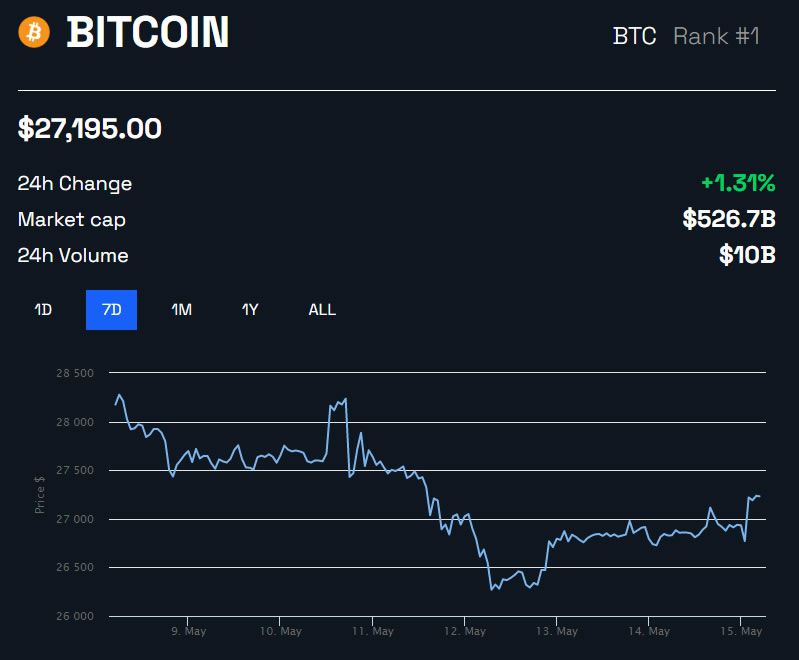 Generally speaking, it's best to treat these apocalypse prophecies with a grain of salt. When cryptocurrency markets are negative, sceptics like Cezary Graf, Nouriel Roubini, and Peter Schiff frequently make outrageous claims. When the bull markets are in full swing, they are typically quite.
Analysts expect the market slump to worsen, with a drop to about $24,000 being predicted. It's quite unlikely that prices will suddenly collapse to $2,700 at this time.